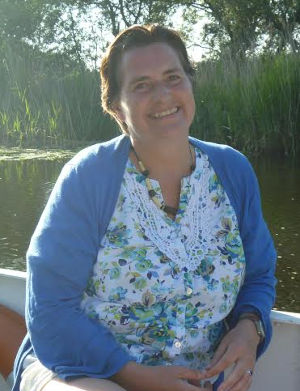 Anita Fincham – Holistic Massage Therapist, Aromatherapist and Healer, from 1991 to present.
Anita practices Aromatherapy Massage at the NU Osteopathy Clinic in Poringland, with home visits available in Norwich and across South Norfolk.
Contact Anita for more information and to book your aromatherapy massage.
"I've been interested in healing for as long as I can remember. I qualified as a nurse in 1979. After the birth of my daughter Mollie in 1988, I left nursing.
In 1991 I trained in massage and earned my ITEC (International Therapy Examination Council) qualification; "Anatomy, Physiology and Holistic Massage".
I worked part-time from home as a holistic massage therapist with several loyal clients throughout the nineties. Then in 1999 I decided to pursue my passion for aromatherapy.
I took a course of training at Norwich City College and earned my IIHHT (International Institute of Health and Holistic Therapies) "Diploma in Aromatherapy".
I have since been practising aromatherapy massage and running aromatherapy workshops, working from my home studio and from clinics in Norwich and Sheringham, including Neals Yard Remedies, Elements of Health and InnerSPACE.
Whilst working at Neals Yard Remedies, in 2001 I started to run aromatherapy workshops for beginners. I felt that customers would appreciate an opportunity to safely learn how to use essential oils with gentle massage techniques. Since then, my aromatherapy workshops have been rewarding, relaxing and fun.
The benefits and healing powers of essential oils never cease to delight me as I continue to enjoy using them in my home, with my family, friends and clients. To me, its a safe, sensual world of connection to nature, ourselves and to each other. Thank you for reading."
Anita Fincham BA(Hons), ITEC, IIHHT, Dip. Aromatherapy